Screen Printing (Silk Screen Print):
1.Print materials will pass through a screen print film (usually fixed onto a wooden print frame) and then print the desired logo on the garment panels. As the print material is some kind of paint which is in semi-liquid form and squeezed through the print film, the logo could be a bit diffused around the edges. If the logo design is too small and detailed, these detail locations may become blurring due to the diffusion effect. For example:
The logo includes very small fonts of Chinese and English Characters.
The logo is of fully-filled and the pattern inside is close to each other.
General suggestions are that English letters and Chinese characters should be at least with height 3mm and 5 mm respectively. The logo should not be fully packed with detail and complicated patterns.
2.Silk Screen Print exhibits the logo in SOLID color form. Therefore, it is hard to apply screen print for logos which have gradient and shadow effect (e.g. like photo quality). If customers would like to achieve multi-colored logo with photo-quality effect. Digital printing or heat transfer printing should be applied.
3.Individual print FILM and FRAME must be issued for each silk screen print color. Therefore, price will increase in proportion to the number of colors in the logo.
4.In general, water-based screen print should be applied for white and light color fabric. While oil-based screen print should be applied for black and dark color fabric.
Oil-based Screen Print:
1.Diffusion effect is considerably more obvious, and the paint will extend to areas where it is not supposed to have the logo design or overlap with other patterns inside the logo (e.g. the logo is with a complete pattern but with many small areas inside the logo which show the fabric as ground color, then such diffusion effect may fully fill up such small areas which resulted that the entire logo is blur.).
Also, when the logo is printed and at the time the paint is still wet, there is possible that dust in the air may fall into the logo area and being trapped in the logo, thus result in some dusty & hairy effect on the logo.
? Oil-based screen print exhibits a layer of plastic-like coating on top of the fabric surface. This layer of coating has potential to have small cracks and color fading after repeated washing; this is due to the physical limitations by the nature of the product.
Water-based Screen Print:
? Water-based paint will be directly absorbed by the fabric, thus colorfastness is better. However, the garment will become washed out after repeated usage and washing. Therefore, the logo colors will also fade as time goes by.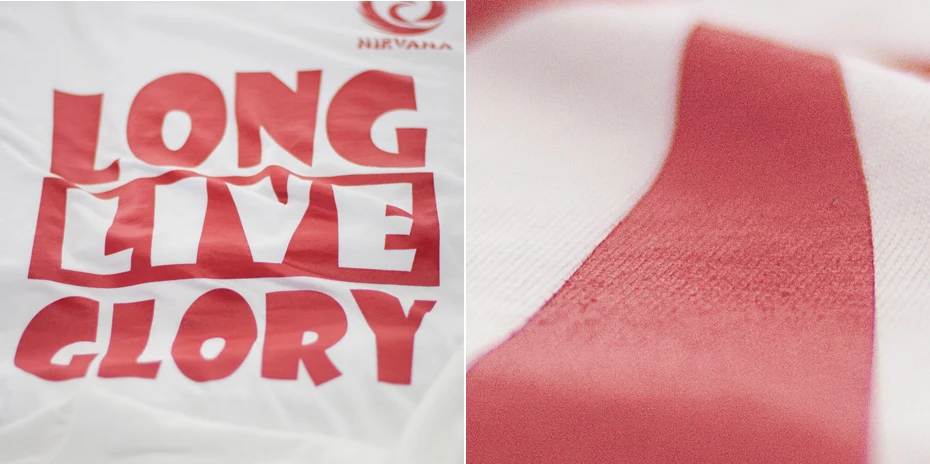 Gold Foil Print:
Applied to the garment fabric panel by heat with a kind of gold / silver foil material, the limitations are that it is possible that the logo may slightly peel off and become duller after washing. The situation could be minimized by turn inside out and use cold water in washing.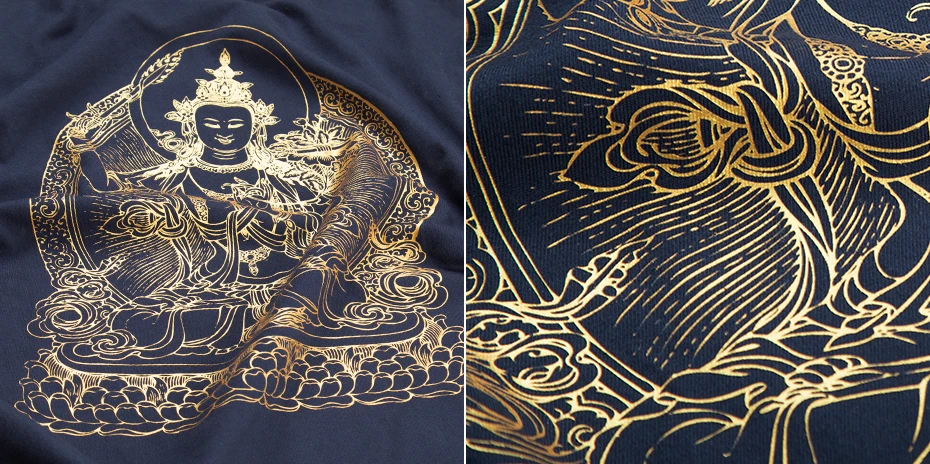 Silver Foil Print:
Applied to the garment fabric panel by heat with a kind of gold / silver foil material, the limitations are that it is possible that the logo may slightly peel off and become duller after washing. The situation could be minimized by turn inside out and use cold water in washing.
Heat Transfer Printing:
1.Required to issue a print mold and involve the mold charge. If order quantity is small, this method will be of higher price. However, this printing method could achieve gradient, shadow effect and multi-colored logo which are of better fastness and do not have the clear coating or white background by the digital printing.
2.The logo shape can be exactly printed on the garment panel as pre-set mold machines will in issued the logo on heat transfer film which could be lately heat transferred to the fabric.
3.The logo size could affect the unit price because the mold machine and the heat transfer film are of fixed area. If logo size is large, less number of logos could be printed on one fixed film area and thus the price will be more expensive.
Despite this printing method is of better logo fastness than digital printing, it is still applied by heat set transfer printing onto to the garment.
Therefore, Repeated washing may potentially still result in slightly peel off and possible color fading. It is suggested to turn inside out the garment and use mild temperature water to minimize such situations.
Reflective ScreenPrint: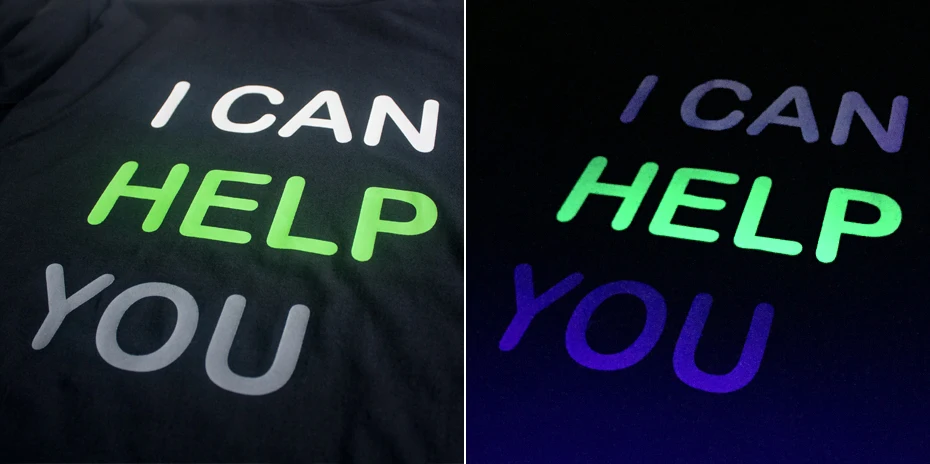 Thick Print: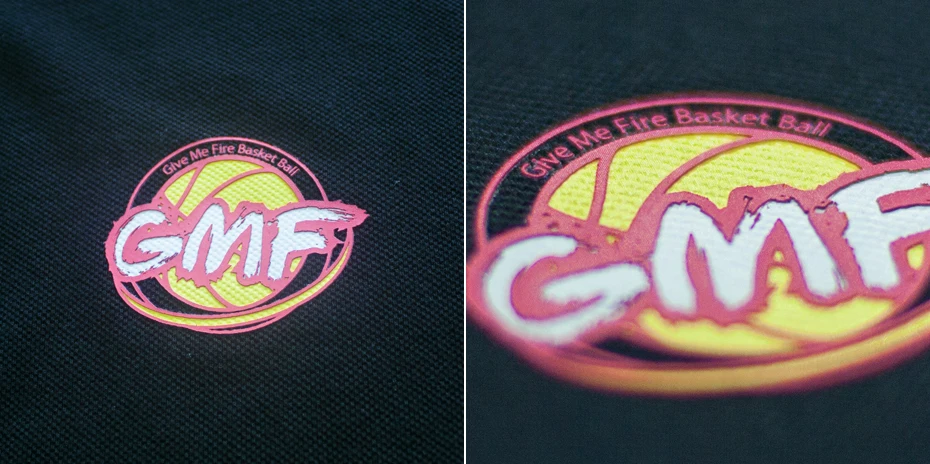 Discharge Print:
Puff Print:
Direct to Garment Printing, Full Color Digital Printing for Any Size Order.
Direct to Garment printing, or DTG printing, is a process by which a digital image is printed directly onto your apparel using the newest technology in apparel printing. This process allows us to print any quantity order with highly detailed full color designs at an affordable price. With our expert team of DTG professionals any design is possible . We ensure outstanding accuracy, exceptional consistency, exceptional print output and low priced rates with every order.
Luminous Print: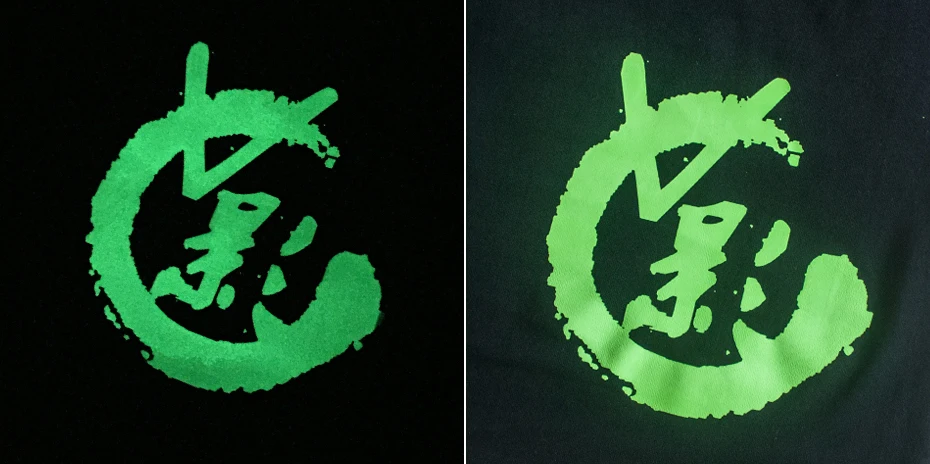 Printing Film:
Fluorescence Print:
Flock Print: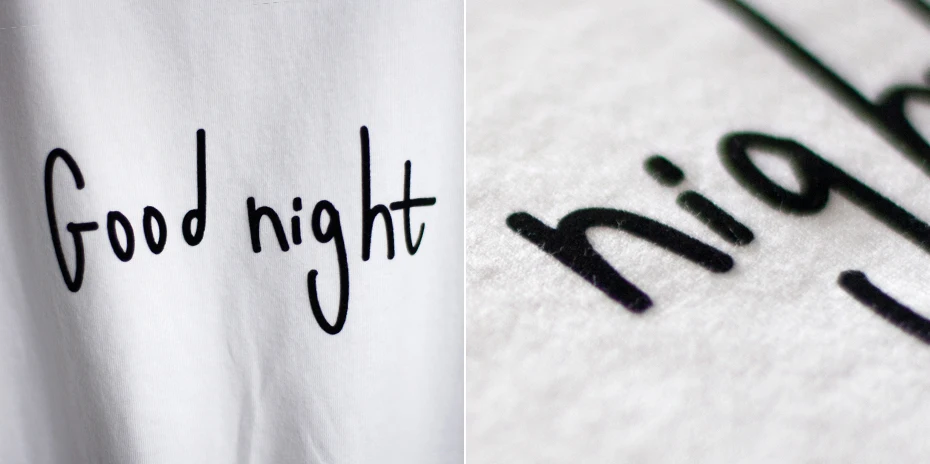 Hotfix / Rhinestone Transfer: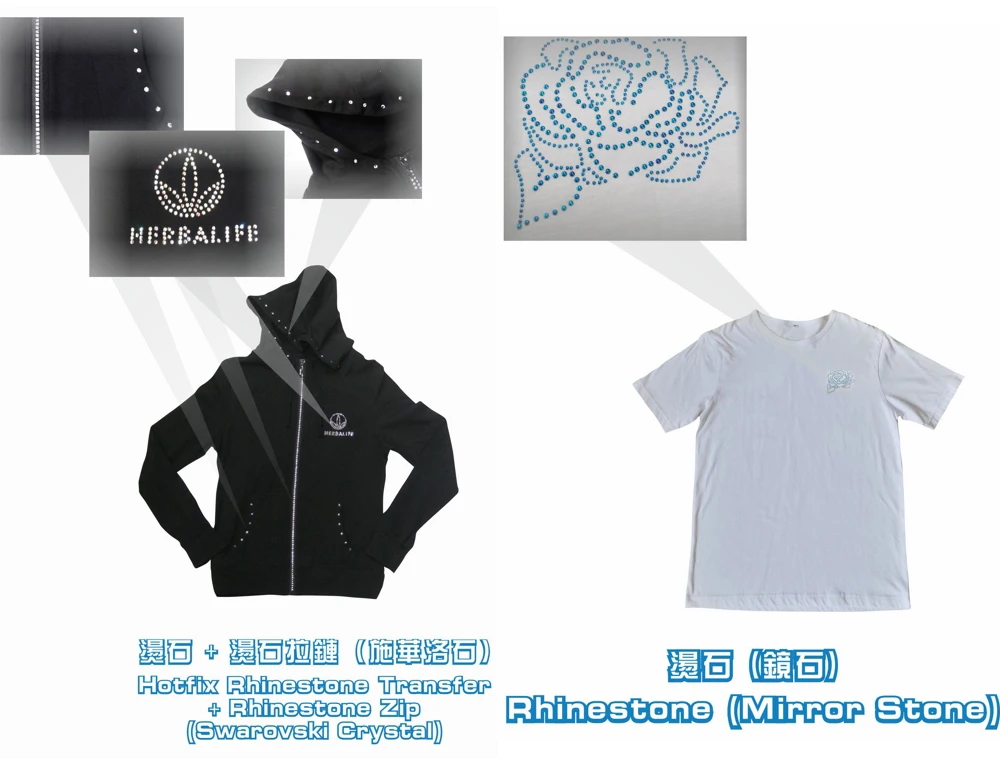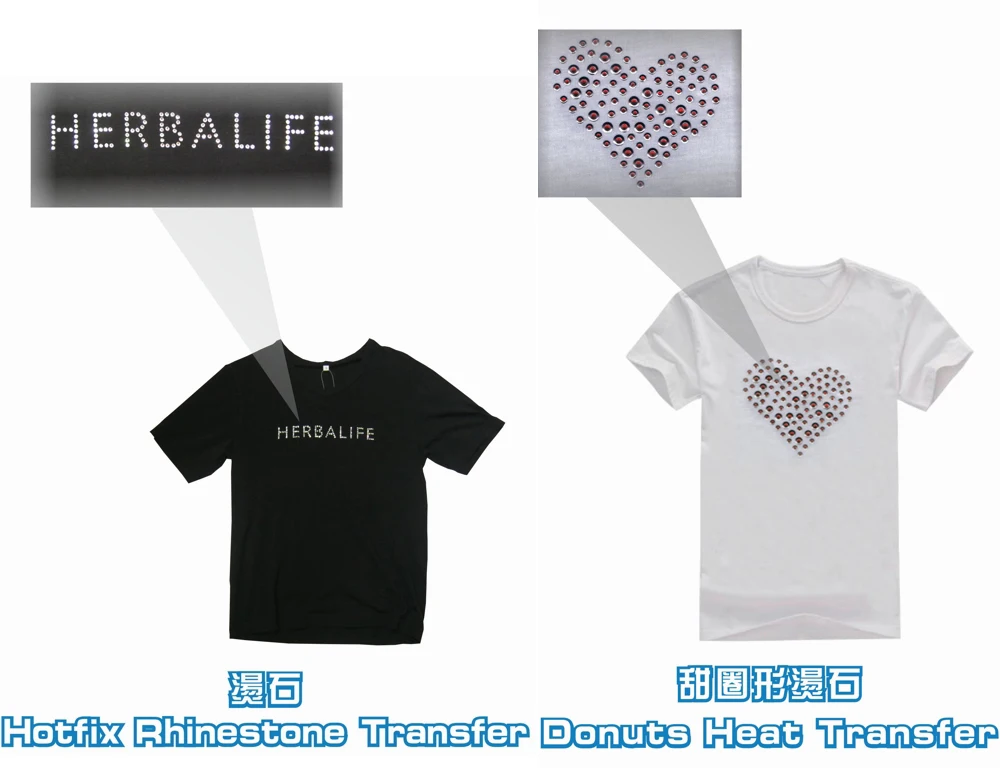 Pearllusting Printing:
Sublimation Printing:
Resemble the effect of inkjet printing; Sublimation printing technology can achieve small lot production with photo-like quality logo but at the same time with less expensive price. However, it can only be applied on light color 100% polyester fabric. Also, the logo color may deviate from the original logo design when the ground fabric colors change.
Tie dyeing: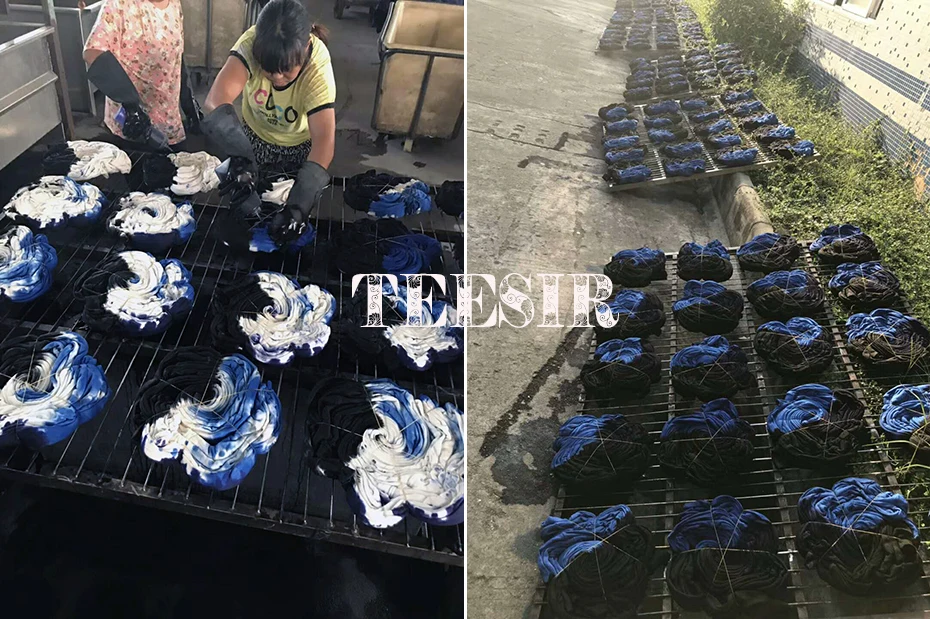 Embroidery:
It is a method using color threads and needles to embroider logo on the garments, in which auto sewing process is done by programming the logo artwork into computer. As there is thickness for the color threads and needles, the out coming effect will not be so good if logo design is too complicated and the logo size is too small. The only improvement is to enlarge or simplify the logo design. Besides, it is not recommended to do embroidery if the pattern or logo is too scattered and irregular. If embroidery logo is made of 3 colors or below, Teesir charges no additional fee. But if the logo is in 4 colors or above, adjustments have to be made on sewing machines. Productivity is low and wastage is lager, so certain up-charge will be posted.